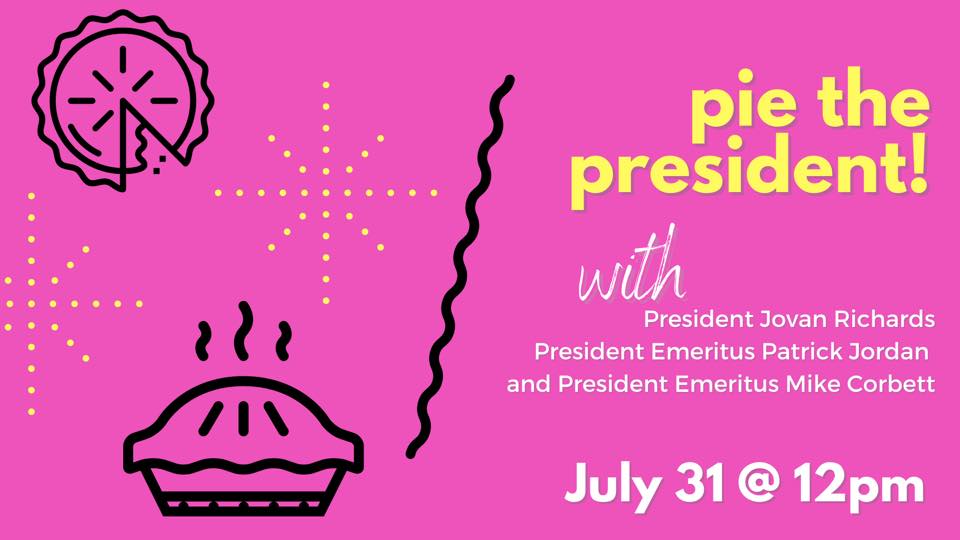 You are invited to PIE THE PRESIDENT! A fun virtual fundraiser to help take a delegation to Ohio for the Young Democrats of America National Convention and support young candidates running for office in the 2021 election cycle.
Featuring…
President Jovan C. Richards
President Emeritus Patrick Jordan
President Emeritus Mike Corbett
And Special Guests…
National Committee Rep. Seamus Campbell
AND MORE!
Saturday, July 31, 2021 @ 12pm
Please email the Event Team at info@nysyd.org if you have any questions or want to join the Host Committee.
Please make checks payable to:
New York State Young Democrats
c/o Jovan C. Richards, President
P.O. Box 1515
New Rochelle, NY 10802
Contributions or gifts to the NYSYD are not tax-deductible. Labor donated.
Ticket Prices:
$8: 1 pie
$21: 3 pies
$40: 6 pies
Special Packages:
$100:
15% discount code on the merch store
8 creme pies
Jovan & Seamus will eat pineapple pizza
$150:
Free T-Shirt
10 creme pies
Jovan & Seamus will eat pineapple pizza
Location
Virtual