For More Information On How You Can Help José Please Contact:
José Peralta For State Senate
77-15 37th Avenue
Jackson Heights, NY 11372
T: (718)205-5855
E: peraltaforsenate@gmail.com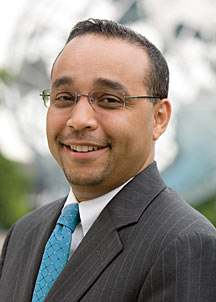 Jose Peralta's Bio: (From http://www.joseperalta.com/bio2.html)
Assemblyman José Peralta's life and work has been dominated by a deep commitment to our community and to the hard-working families of Queens.
For José, that commitment stems from his own life's story. A first-generation Dominican-American, José's parents came to the United States in search of the American dream and a better life for their children. His parents worked hard to sustain their family on the wages of entry-level positions: his father a bank teller and his mother a seamstress at a sweatshop. They struggled to ensure that their children received a quality education that would provide them with opportunities and would instill in them the value of public service.
José is a product of his parents' sacrifice and has spent a lifetime working to ensure everyone in our community has the opportunity to succeed.
A proud graduate of Queens Public schools, including PS 14, IS 61 and Flushing High School, José was the first Latino Student Body President of Queens College.
After graduating, Peralta began a career giving back to the community he loves through public service. As a community liaison in the New York State Assembly, José worked to make government more accessible to the families of Queens, solving problems and helping people in need. He then served as the Director of the Commission on the Dignity for Immigrants at the New York City Central Labor Council, representing over 1.5 million union members. Under Peralta's direction, the Commission championed the mission of empowering all immigrants in a variety of ways, including registering over 20,000 new citizens.
In 2002, at the age of 30, José Peralta was elected to the New York State Assembly. José has distinguished himself as a fighter for immigrants and working families, serving with honor and integrity. As the Chairman of the Banking Sub-Committee, José expanded the number of branches serving low-income communities. In addition, José secured millions to improve local schools, spearheaded Operation Impact to put more police on the streets, and brought in the Doe Fund to help keep the streets of the 39th Assembly District clean.