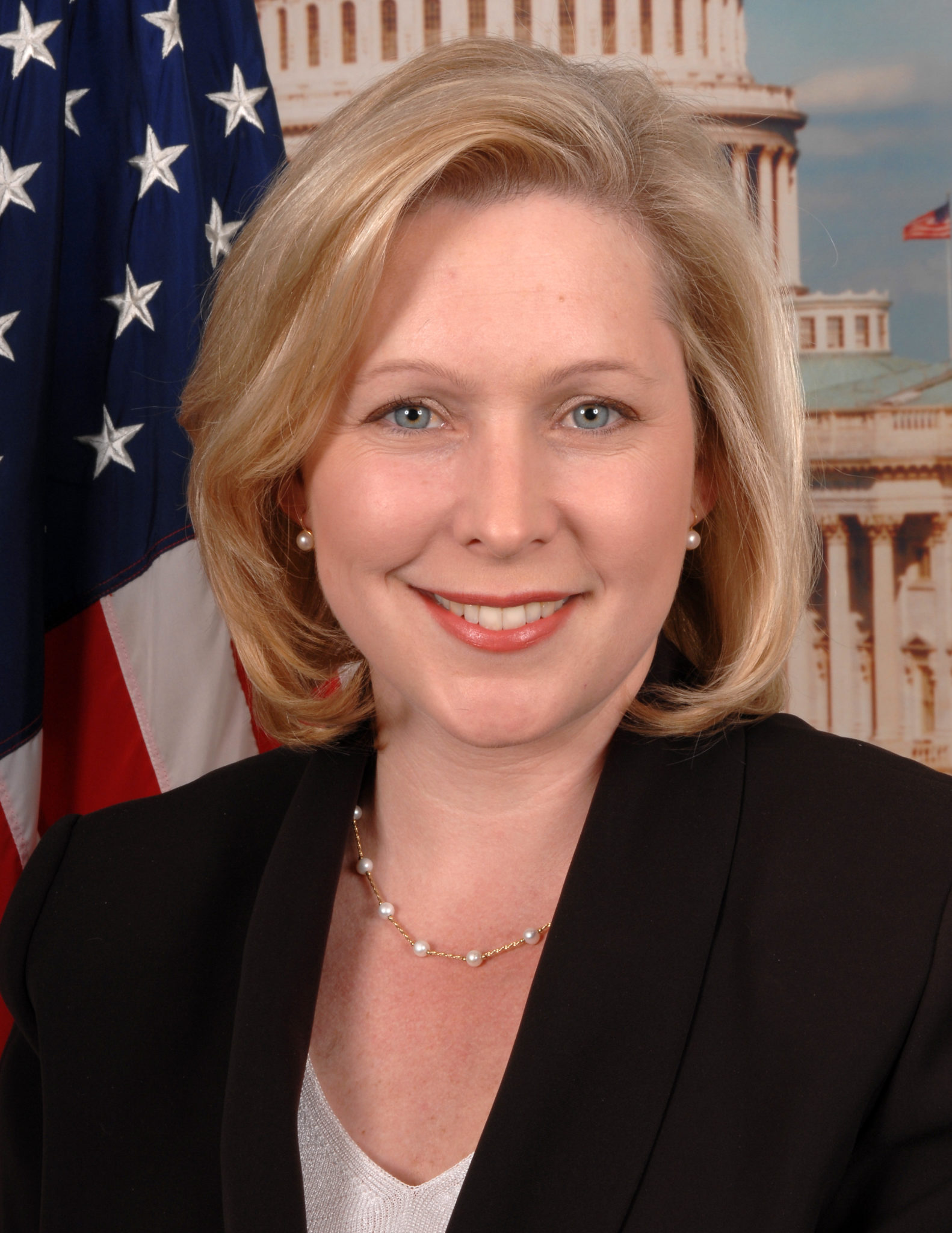 Yesterday, Kirsten Gillibrand was sworn in as the Junior United State Senator from New York. After a long wait to find out who would fill the vacancy left by Secretary of State Hillary Clinton, we got an answer and, as we have done as a party over the last year, unite around the choice. However, many New York Democrats have refused to even give Senator Gillibrand a chance.
Governor David Paterson appointed then-Congresswoman Kirsten Gillibrand to the vacant US Senate seat shortly after Inauguration. There was an almost instantaneous reaction, but it was a surprise to me that the negative reaction came from many Empire State Democrats. Representative Carolyn McCarthy (D-Long Island) all but announced she will run in the Democratic primary election next year after appearing on cable news programs. The congresswoman, whose husband was killed and son injured by a gunman on the Long Island Railroad, based her decision on the National Rifle Association's previous support of Senator Gillibrand. In addition, New York City Council Councilman Joel Rivera (D-Bronx) organized a protest on the steps of City Hall based on the senator's immigration stance.
As we know, Kirsten Gillibrand comes from a highly conservative area of New York State, and her political views are representative of that of her district. This point only makes sense, considering my views represent a lifelong resident of Manhattan. The 20th district emcompasses parts of ten counties in an area that almost completely surrounds Albany. In running for Congress in 2006, Gillibrand was running against a strong incumbent in Representative John Sweeney. During the race, Gillibrand meshed her core Democratic values to those of her fellow residents of the 20th. Although a recording of a 911 call made by Sweeney's wife claiming domestic abuse probably put her over the top, Gillibrand would not have been close had her viewpoints been as liberal as someone from New York City.
The Democratic Congressional candidates who were victorious in 2006 were mostly Conservative Democrats, known as "Blue Dog Democrats," a coalition of moderate and conservative Democratic members of the House of Representatives. There are currently 47 members of the coalition, including Congressman Michael Arcuri (D-NY) and former Congresswoman Gillibrand. Without them, Republicans may have stayed in the majority in 2006, which may have led to a different result in the recent Presidential Election. As I mentioned, these are not your cookie-cutter Democrats, as they come from conservative areas of their respective states.
There is no precedent however to Blue Dog representatives becoming Senators; Kirsten Gillibrand will be the first. Now we come back to fellow Democrats objections to the appointment of Gillibrand to the United States Senate. I do agree that representing a conservative congressional district do not allow for one to be as liberal as the whole of New York State would prefer. However, in the past week, Senator Gillibrand has been more than receptive to speak with those who may be concerned with her viewpoints. I am optimistic that over the next few months, we will discover a more liberal Gillibrand than we have previously seen. This is why I wish my fellow New York Democrats would hold their criticism until Senator Gillibrand has a chance to get her feet wet in her new job. I also think it is wrong to judge someone on only one political viewpoint, such as gun control or immigration. The fact that the NRA has given Gillibrand a 100% rating on issues relating to gun owners has been mentioned at length. However, I have heard very little about the fact that Gillibrand also garners a 100% rating from the American Civil Liberties Union, and her views on a woman's right to choose and laws protecting gay couples are consistent with the Democratic party platform.
Personally, I would like to focus on the positive reasons behind the appointment of Kirsten Gillibrand. The first that sticks out is that at 42 years old, Gillibrand is now the youngest member of the United States Senate. Considering the average age of Senators is 62, I am encouraged that somone from my own state is now, for all intents and purposes, the Young Democrat in the Senate. In addition, there are still 17 women remaining in the Senate chamber. Considering the previous holder of this seat just made 16 million cracks in the glass ceiling and, more importantly, the subsequent damage done by the unfortunate vice presidential campaign by Governor Sarah Palin (R-AK), I feel it was important to appoint another strong woman to this office. I can think of few who fit that description as well as Kirsten Gillibrand. Finally, I feel strongly that this seat will safely remain in Democratic hands for years to come. Not only does Gillibrand give an upstate-downstate balance to New York's two US Senate seats, but her approval rating among New York Republicans is even higher than that of Democrats throughout the state. Combine this with the fact that Gillibrand raised in excess of $4.6 million for her reelection bid this past year, outraising her opponent and former Republican State Chair Sandy Treadwell 4-to-1 in the most expensive Congressional race in 2008 (Note: Though Treadwell had over $7 million in his campaign account, he only "raised" $1.1 million, while self-financing the campaign to the tune of $5.9 million; he still lost). Put simply, Kirsten Gillibrand is what can only be called a political powerhouse for the Democratic party, and will be for years to come.
In short, I want to express my great pleasure in the appointment of Kirsten Gillibrand as the Junior United State Senator from New York. Together with Senior Senator Chuck Schumer (D-NY), we have two people in Washington, DC that will continue to bring resources, prowess, and pride back home to us here in the Empire State. Things continue to look bright here in New York…or should I say, bright blue!